Empire Communities opens its first U.S. division in Houston.
By Brian Croce | January 27, 2017
The Toronto Maple Leafs' best player is teenager Auston Matthews from Arizona. When the National Hockey League (NHL) entered into non-traditional hockey markets like Arizona and Florida in the 1990s, it did so with the hopes of growing the game nationally.
As a business, the NHL is always looking to grow. The same could be said for home building companies, like Ontario-based Empire Communities, which has brought its business south with a land development and home building operation in Houston.
The company entered Houston in 2012 with its development operation, Empire Continental Land. In 2016, it expanded its U.S. operation by launching a home building division. Empire tapped a pair of veteran Houston builders to run the new venture: James Miller, a native Houstonian who spent the past 26 years with McGuyer Homebuilders Inc. (MHI), has been named division president, and Carl "Wade" Bradow Jr., who most recently served as division president of land acquisition at MHI, has been named division executive vice president.
From Empire's corporate offices just north of Toronto, executives kept an eye on the U.S. home building market for over a decade before opening the Houston home building division. After years of planning, 2016 was the right time to pounce, says Paul Golini Jr., executive vice president and co-founder at Empire. When entering a new market, it's better to crawl before you walk, he adds.
"We established a foothold and a name credibility from a bank perspective through our land development division first, and once we felt comfortable with that, it was a natural progression to start our building operation," he says.
Timing Is Everything
For over 20 years, Empire has been developing communities and building homes in Canada. It aims to deliver roughly 1,000 homes a year, including townhomes, but in 2016 that number was around 700, Golini Jr. explains, due to a labor strike that pushed some closings to 2017. The company is also currently building a 1,285-unit condo project on Lake Ontario, among other multifamily projects.
In the mid-2000s, Empire wanted to enter the U.S., but executives saw the nation's inventory numbers shoot up and took it as a sign of bigger problems to come. "[As] an outsider, we were really able to have a clear view of what was happening," Golini Jr. recalls, noting that the U.S. expansion was then shelved, but not scrapped.
"Even when the numbers went to those abysmal troughs, we knew that it would have to come back," Golini Jr. says. "It was just a matter of … waiting for the right time and the right opportunity."
The right time came in 2012 with its land development arm. "The intention was … always to enter first as a developer, take our time, [and] partner with local expertise," Golini Jr. says.
Houston Talent
That local expertise—Miller and Bradow—first got to know Empire through its land development team because MHI built homes in Empire-developed communities.
When Miller was approached about leading Empire's home building operation, he liked what he heard. "It was interesting that someone from Toronto had that strong of a belief in Houston and the Texas market in general, both in the short-term and the long-term," he says.
Although there's heavy competition in Houston, Miller says he sees it as a "healthy market." Yes, the drop in oil prices has caused some sluggishness, he notes, but "the development community and the home building community are not over-developed or over-built."
The city's simple entitlement process is also a plus. It could take seven years to entitle land in Toronto, Golini Jr. says, whereas the barriers to entry in Houston are much easier. And despite all the major builders in Houston, "we're used to a very competitive marketplace," he adds. "We believe that competition is good for the marketplace and the consumer, and if you're able to deliver a quality product and set yourself apart, I think there's enough for everyone."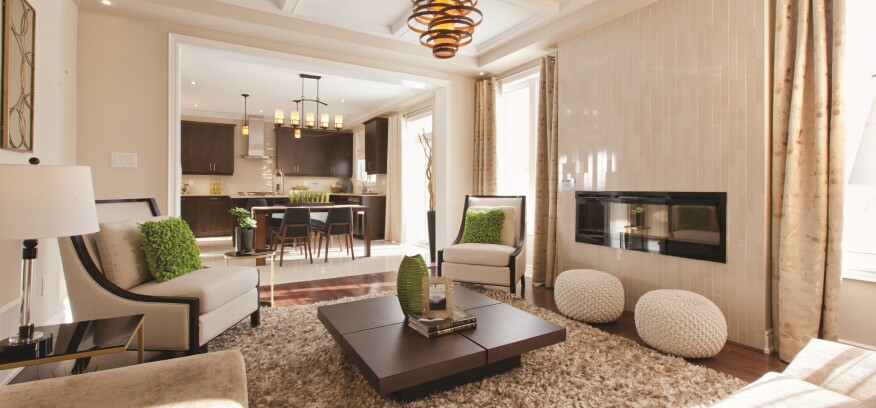 The Road Ahead
For its first U.S. project, Empire will build roughly 300 homes as part of the 600-acre Dellrose community in Cypress, Texas. Empire's land development team is developing the community, though Miller says the home building division is autonomous.
As one of five builders in Dellrose, Empire will build an entry-level product starting in the low $200,000s, with models ranging from 1,750 square feet to 2,700 square feet.
Through the end of 2016, Empire secured three other land positions in the Houston market. "An advantage of being a startup is you can really analyze the market," Miller says. "Three years ago, that move-up buyer may have been looking for 4,200 square feet and now, with oil prices not as strong, that buyer may be more conservative. They want the same amenities, but they may want it in 3,700 square feet."
Empire expects to deliver about 50 homes in 2017, with hopes to double that figure in 2018, Miller says. The company looks to expand its Texas footprint over the next 18 months with an Austin division, followed by Dallas.
"We're definitely looking at other U.S. opportunities," Golini Jr. says, "but they will not happen until we're comfortable and established in Texas."